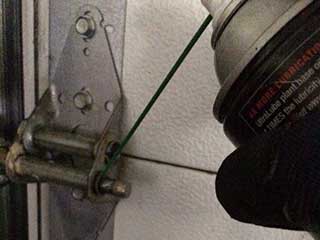 Your garage door can get noisy over time, which can become a mild inconvenience. If you've experienced this issue, there are steps you can take to counteract the problem before it gets worse. Stop that ruckus with some mild lubrication, which will help your door return to proper, quiet functioning. This will also reduce general wear and tear, which can contribute to more expensive repairs later. But how do you effectively lubricate your door? It's best to start with a visual inspection, looking out for worn parts. You can manually test your door too, where if it slams shut or is difficult to lift, you probably need the help of a qualified technician. A professional can easily evaluate issues using his years of experience in the trade, but if your door is working properly, it's time to lubricate. Read on to discover more.
Grease Them Rollers!

Not all rollers need to be oiled, just steel rollers without coverings and black nylon rollers. With the steel variety, you should apply a light amount of oil on the ball bearings, which will help things run more smoothly. On black nylon rollers, you should apply oil between the rollers and shaft, since these don't have ball bearings. Steel rollers with white nylon coverings shouldn't be oiled, since the ball bearings on these are already sealed. Lubrication isn't difficult, so there's no need to approach with caution.

Lubricating Your Springs

Both varieties of springs, both extension and torsion, must be oiled regularly. This helps reduce friction, which is common when the spring coils move. You can begin by rubbing some oil at the top of each spring, adding a light coating. Using a cloth will prevent excess oil leaking onto the floor, and you're best to oil your springs before of summer and winter. This will safeguard against the humidity that's commonplace during these periods.

Hinges & Tracks

Hinges require just a small amount of lubricant, so that the moving parts can run smoothly. The brackets at the top or bottom of your garage door should also be lightly lubricated. Your tracks won't require much in the way of grease, in fact a small drop or two of oil will be enough for each horizontal span. Once the rollers move over the tracks, this will help spread the oil accordingly, facilitating smooth running. Most importantly, your efforts will offset the inevitability of calling a professional to replace different mechanisms, but always be ready for this outcome.